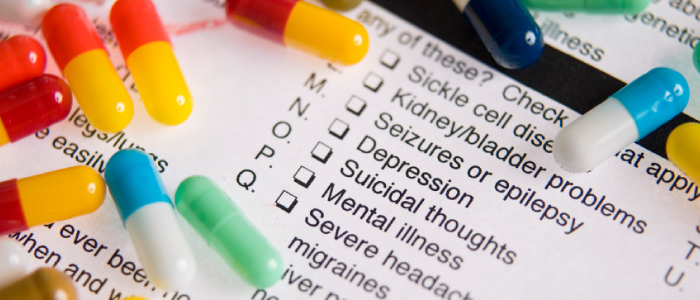 VICODIN (Hydrocodone and Acetaminophen)
Other brand names: Zydone, Norco, Maxidone, Lorcet, Hydrocet, Co-Gesic, Anexsia, Lortab
What is it: Hydrocodone is in a group of drugs called narcotic pain relievers. Acetaminophen is a less potent pain reliever that increases the effects of hydrocodone.
Use: The combination of acetaminophen and hydrocodone is used to relieve moderate to severe pain.
Side Effects: May include: Dizziness, light-headedness, nausea, sedation, vomiting.
Precautions: Hydrocodone and Acetaminophen may make you drowsy, less alert, or unable to function well physically. Do not drive a car, operate machinery, or perform any other potentially dangerous activities until you know how Hydrocodone and Acetaminophen affects you.
Use caution in taking Hydrocodone and Acetaminophen if you have a head injury. Narcotics tend to increase the pressure of the fluid within the skull, and this effect may be exaggerated by head injuries. Side effects of narcotics can interfere in the treatment of people with head injuries.
Use Hydrocodone and Acetaminophen with caution if you have a severe liver or kidney disorder, an underactive thyroid gland, Addison's disease (a disease of the adrenal glands), an enlarged prostate or urethral stricture (narrowing of the tube carrying urine from the bladder).
Older adults and those in a weakened condition should be careful using Hydrocodone and Acetaminophen, since it contains a narcotic.
Narcotics such as Hydrocodone and Acetaminophen may interfere with the diagnosis and treatment of people with abdominal conditions.
Hydrocodone suppresses the cough reflex; therefore, be careful using Hydrocodone and Acetaminophen after an operation or if you have a lung disease.
High doses of hydrocodone may produce slowed breathing; if you are sensitive to Hydrocodone and Acetaminophen, you are more likely to experience this effect.
Directions: All forms of Hydrocodone and Acetaminophen are taken every 4 to 6 hours as needed for pain. The usual dose of Hydrocodone and Acetaminophen is 1 or 2 tablets, up to a maximum of 8 tablets per day. The usual dose of Hydrocodone and Acetaminophen HP is 1 tablet, up to a maximum of 6 tablets per day. For Hydrocodone and Acetaminophen ES, the usual dose is 1 tablet, up to a maximum of 5 tablets per day.
Missed Doses: If you take this medication regularly, take the forgotten dose as soon as you remember. If it is almost time for your next dose, skip the one you missed and go back to your regular schedule. Do not take 2 doses at once.
Storage: Keep out of the reach of children. Do not keep outdated medicine or medicine no longer needed. Ask your healthcare professional how you should dispose of any medicine you do not use. Store the medicine in a closed container at room temperature, away from heat, moisture, and direct light.