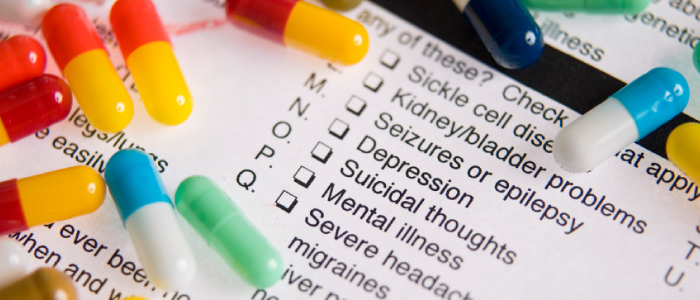 ZOLOFT (sertraline)
What is it: Sertraline is an antidepressant in a group of drugs called selective serotonin reuptake inhibitors (SSRIs). It affects chemicals in the brain that may become unbalanced and cause depression, panic, anxiety, or obsessive-compulsive symptoms..
Use: Zoloft is prescribed for major depression—a persistently low mood that interferes with everyday living. Symptoms may include loss of interest in your usual activities, disturbed sleep, change in appetite, constant fidgeting or lethargic movement, fatigue, feelings of worthlessness or guilt, difficulty thinking or concentrating, and recurrent thoughts of suicide.
Side Effects: Side effects may include: abdominal pain, agitation, anxiety, constipation, decreased sex drive, diarrhea or loose stools, difficulty with ejaculation, dizziness, dry mouth, fatigue, gas, headache, decreased appetite, increased sweating, indigestion, insomnia, nausea, nervousness, pain, rash, sleepiness, sore throat, tingling or pins and needles, tremor, vision problems, vomiting
Precautions: Do not take Zoloft within 2 weeks of taking any drug classified as an MAO inhibitor. Drugs in this category include the antidepressants Marplan, Nardil, and Parnate. When serotonin boosters such as Zoloft are combined with MAO inhibitors, serious and sometimes fatal reactions can occur. In addition, you should not combine Zoloft with the drug pimozide (Orap).
SSRI antidepressants could potentially cause stomach bleeding, especially when combined with nonsteroidal anti-inflammatory drugs (NSAIDs) such as aspirin, ibuprofen, naproxen, and ketoprofen. Consult your doctor before combining Zoloft with NSAIDs or blood-thinning medications.
Like all antidepressants, Zoloft could trigger a manic episode. Let the doctor know if you've ever had this problem.
Directions: Take Zoloft exactly as prescribed: once a day, in either the morning or the evening. Zoloft is available in capsule and oral concentrate forms. To prepare Zoloft oral concentrate, use the dropper provided. Measure out the amount of concentrate prescribed by your doctor and mix it with 4 ounces of water, ginger ale, lemon/lime soda, lemonade, or orange juice. (Do not mix the concentrate with any other type of beverage.) Drink the mixture immediately; do not prepare it in advance for later use. At times, a slight haze may appear after mixing, but this is normal.
Missed Doses: Take the missed dose as soon as you remember. If it is almost time for your next dose, skip the missed dose and take the medicine at the next regularly scheduled time. Do not take extra medicine to make up the missed dose.
Storage: Store the medicine in a closed container at room temperature, away from heat, moisture, and direct light. Keep from freezing. Keep out of the reach of children. Do not keep outdated medicine or medicine no longer needed.