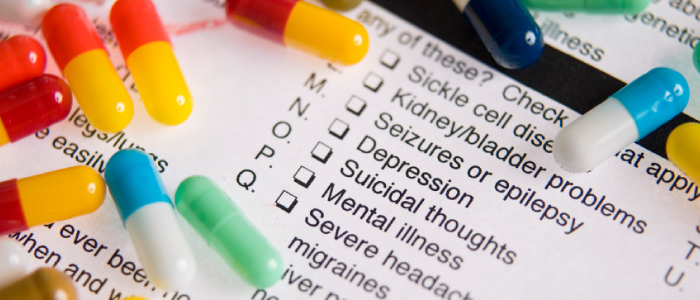 WELLBUTRIN (buproprion hydrochloride) Also sold as ZYBAN to help control smoking
What is it: Bupropion Hydrochloride is an antidepressant.
Use: Wellbutrin is prescribed to help relieve major depression. Symptoms include a severely depressed mood (for 2 weeks or more) and loss of interest or pleasure in usual activities accompanied by sleep and appetite disturbances, agitation or lack of energy, feelings of guilt or worthlessness, decreased sex drive, inability to concentrate, and sometimes, suicidal thoughts or behavior. Wellbutrin is thought to work by altering levels of the brain chemicals norepinephrine and dopamine.
Side Effects: Check with your doctor immediately if any of the following side effects occur: More common: Agitation; anxiety. Less common: Buzzing or ringing in the ears; headache (severe); skin rash, hives, or itching. Rare: Confusion; fainting; false beliefs that cannot be changed by facts; having extreme distrust of people; seeing, hearing, or feeling things that are not there; seizures (convulsions); trouble with concentrating
Get emergency help immediately if any of the following symptoms of overdose occur: Loss of consciousness; nausea; vomiting
Precautions: Do not take bupropion with or within 14 days of taking a drug with monoamine oxidase inhibitor (MAOI) activity.  Do not take an MAO inhibitor within 14 days of taking bupropion. If you do, you might have convulsions (seizures).
Your blood pressure might get too high while you are using this medicine. This may cause headaches, blurred vision, and other symptoms. Bupropion may cause some people to be agitated, irritable, or display other abnormal behaviors. It may also cause some people to have suicidal thoughts and tendencies or to become more depressed. This medicine may cause a serious type of allergic reaction called anaphylaxis. Anaphylaxis can be life-threatening and requires immediate medical attention. Tell your doctor right away if you have a rash; itching; swelling of the face, tongue, and throat; trouble breathing; or chest pain after you take this medicine.
Drinking alcoholic beverages should be limited or avoided, if possible, while taking bupropion. This will help prevent seizures.
Directions: Use bupropion only as directed by your doctor. Do not use more of it, do not use it more often, and do not use it for a longer time than your doctor ordered. To do so, may increase the chance of side effects. The dose of this medicine will be different for different patients. Follow your doctor's orders or the directions on the label. The following information includes only the average doses of this medicine. If your dose is different, do not change it unless your doctor tells you to do so.
Missed Doses: Take the missed dose as soon as you remember. If it is almost time for your next dose, skip the missed dose and take the medicine at the next regularly scheduled time. Do not take extra medicine to make up the missed dose.
Storage: Store the medicine in a closed container at room temperature, away from heat, moisture, and direct light. Keep from freezing. Keep out of the reach of children. Do not keep outdated medicine or medicine no longer needed.