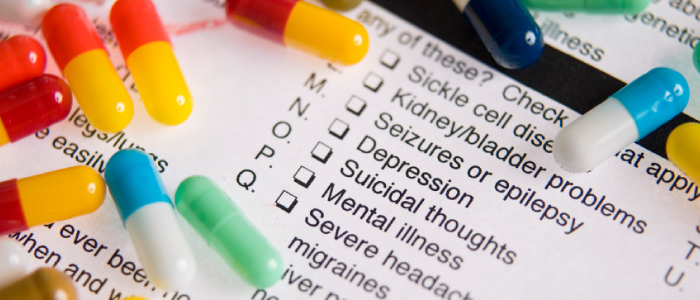 SINEQUAN (doxepepin)
What is it:. Doxepin is a tricyclic antidepressant. It is not known exactly how it works. It may increase the activity of certain chemicals in the brain, which help elevate mood.
Use: Doxepin is used in the treatment of depression and anxiety. It helps relieve tension, improve sleep, elevate mood, increase energy, and generally ease the feelings of fear, guilt, apprehension, and worry most people experience. It is effective in treating people whose depression and/or anxiety is psychological, associated with alcoholism, or a result of another disease (cancer, for example) or psychotic depressive disorders (severe mental illness).
Side Effects: Blurred vision, constipation, dizziness, drowsiness, dry mouth, itchy or scaly skin (pruritus), light sensitivity, low blood pressure, nausea, rapid or irregular heartbeat, rash, trouble urinating, water retention
Precautions:. Antidepressants may increase the risk of suicidal thoughts or actions in children, teenagers, and young adults. However, depression and certain other mental problems may also increase the risk of suicide. Talk with the patient's doctor to be sure that the benefits of using Doxepin outweigh the risks.
Family and caregivers must closely watch patients who take Doxepin . It is important to keep in close contact with the patient's doctor. Tell the doctor right away if the patient has symptoms like worsened depression, suicidal thoughts, or changes in behavior. Discuss any questions with the patient's doctor.
Serious, sometimes fatal, reactions have occurred when Sinequan is used in combination with drugs known as MAO inhibitors, including the antidepressants phenelzine andtranylcypromine. Any drug of this type should be discontinued at least 2 weeks prior to starting treatment with Sinequan, and you should be carefully monitored by your doctor.
Directions: Take Doxepin hydrochloride exactly as prescribed. It may take several weeks for you to feel better.
Missed Doses: Take the missed dose as soon as you remember. If it is almost time for your next dose, skip the missed dose and take the medicine at the next regularly scheduled time. Do not take extra medicine to make up the missed dose.
Storage: Store the medicine in a closed container at room temperature, away from heat, moisture, and direct light. Keep from freezing. Keep out of the reach of children. Do not keep outdated medicine or medicine no longer needed.