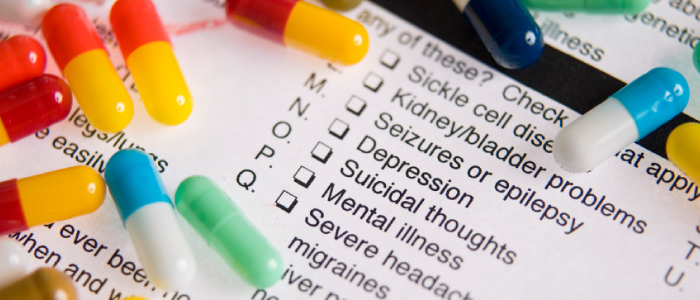 Tysabri (natalizumab) by intravenous injection
What is it: An Immune Supressant
Use: Natalizumab is used to treat patients with relapsing forms of multiple sclerosis (MS), and patients who have not been helped by other medicines. natalizumab will not cure MS, but may delay physical disability and extend the time between relapses . Natalizumab is also used to treat Crohn's disease (CD) in patients who have not been helped by other medicines. natalizumab will not cure CD, but may prevent it from occurring again.
Serious Side Effects: Check with your doctor immediately if any of the following side effects occur: cough; difficulty swallowing; dizziness; fast heartbeat; hives; itching; puffiness or swelling of the eyelids or around the eyes, face, lips, or tongue; shortness of breath; skin rash; tightness in chest; unusual tiredness or weakness; wheezing.
Common Side Effects: Some side effects may occur that usually do not need medical attention: bladder pain; blistering, crusting, irritation, itching, or reddening of skin; bloody or cloudy urine; cracked, dry, scaly skin; diarrhea; difficult, burning, or painful urination; difficulty in moving; discouragement; feeling sad or empty; frequent, strong, or increased urge to urinate; headache; irregular menstruation; irritability; itching of the vagina or genital area; lack of appetite; loss of interest or pleasure; lower back or side pain; muscle pain or stiffness; nausea; pain during sexual intercourse; pain in joints; pain, cramps, heavy bleeding; passing urine more often; stomach pain; stomach soreness or discomfort; swelling; swollen glands; thick, white vaginal discharge with no odor or with a mild odor; trouble concentrating; trouble sleeping
Precautions: Your doctor will want to check your progress 3 months after the first injection, 6 months after the first injection, and every 6 months after that. Tell your doctor if you are currently taking interferon beta, 6-mercaptopurine, cyclosporine, or methotrexate. Natalizumab should not be given together with these medicines. Natalizumab may increase your risk of developing infections, including a serious brain infection called progressive multifocal leukoencephalopathy (PML).  Liver problems may occur while you are using natalizumab.  Natalizumab may cause a serious type of allergic reaction called anaphylaxis.
Natalizumab increases the risk of progressive multifocal leukoencephalopathy (PML), an opportunistic viral infection of the brain that usually leads to death or severe disability. Natalizumab is available only through a special restricted distribution program called the TOUCH(TM) Prescribing Program in which only prescribers, infusion centers, and pharmacies associated with infusion centers registered with the program are able to prescribe, distribute, or infuse the product. Patients must be enrolled in and meet all the conditions of the TOUCH(TM) Prescribing Program to receive the drug. Monitor patients for any new sign or symptoms that may be suggestive of PML and discontinue therapy at the first sign or symptoms suggestive of PML .
Directions: A nurse or other trained health professional will give you natalizumab. natalizumab is given through a needle placed in one of your veins . Natalizumab comes with a medication guide. It is very important that you read and understand this information. Be sure to ask your doctor about anything you do not understand.
Storage: Store in the refrigerator. Do not freeze.