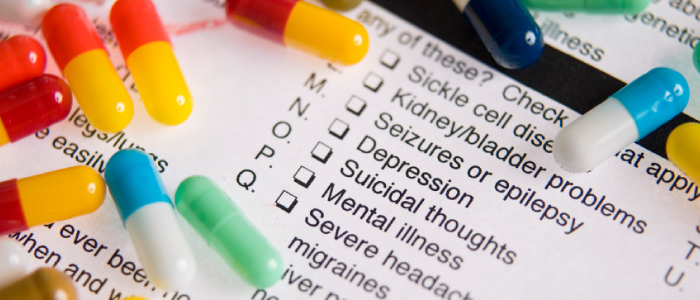 TOPAMAX (topiramate)
What is it: Anticonvulsant
Use: Topiramate is used alone or together with other medicines to help control certain types of seizures (e.g., partial seizures, tonic-clonic seizures, or Lennox-Gastaut syndrome) in the treatment of epilepsy. This medicine cannot cure epilepsy and will only work to control seizures for as long as you continue to take it. It is also be used to help prevent migraine headaches in adults.
Side Effects: Check with your doctor immediately if any of the following side effects occur. More common; any vision problems, especially blurred vision, double vision, eye pain or rapidly decreasing vision; burning, prickling, or tingling sensations; clumsiness or unsteadiness; confusion; continuous, uncontrolled back-and-forth or rolling eye movements; dizziness; drowsiness; increased eye pressure; memory problems; nervousness; speech or language problems; trouble in concentrating or paying attention; unusual tiredness or weakness. Less common; abdominal or stomach pain; fever, chills, or sore throat; lessening of sensations or perception; loss of appetite; mood or mental changes, including aggression, agitation, apathy, irritability, and mental depression; red, irritated, or bleeding gums; weight loss.
Precautions: It is very important that your doctor check your progress at regular visits to see if the medicine is working properly. Blood tests may be needed to check for unwanted effects. It is important to tell your doctor if you become pregnant. Your doctor may want you to join a pregnancy registry for pregnant patients taking a seizure medicine. This medicine may cause some people to have blurred vision, double vision, clumsiness or unsteadiness, or to become dizzy, drowsy, or have trouble in thinking or speaking. Make sure you know how you react to this medicine before you drive, use machines, or do anything else that could be dangerous if you are not alert, well-coordinated, or able to think or see well.
This medicine will add to the effects of alcohol and other CNS depressants (medicines that make you drowsy or less alert). Some examples of CNS depressants are antihistamines or medicine for hay fever, other allergies, or colds; prescription pain medicines, or sleep medicines. Check with your doctor before taking any of the above while you are using this medicine.
Directions: Take this medicine every day exactly as ordered by your doctor in order to improve your condition as much as possible. Do not take more of it, do not take it more often, and do not take it for a longer time than your doctor ordered. This medicine comes with a medication guide. Read and follow the instructions carefully. Ask your doctor if you have any questions. Topiramate may be taken with or without food, on a full or an empty stomach. Swallow the tablets whole. Do not break, crush, or chew them. The bitter taste may be more noticeable if the tablets are held in the mouth or chewed.
It is important that you drink extra water every day while you take topiramate to help prevent kidney stones.
If You Miss a Dose: Since pain relievers are sometimes taken only when needed, you may not be on a dosing schedule. If you are taking the medication regularly, take the missed dose as soon as you remember. If it is almost time for your next dose, skip the missed dose and take the medicine at your next regularly scheduled time.
Storage: Store the medicine in a closed container at room temperature, away from heat, moisture, and direct light. Keep from freezing. Keep out of the reach of children. Do not keep outdated medicine or medicine no longer needed.