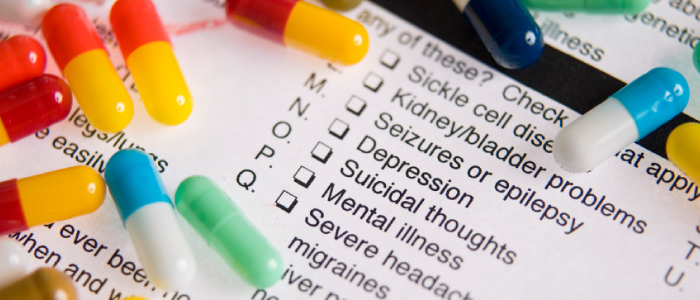 What Is It?: Contains Ibuprofen 200mg, Riboflavin 100mg, Sodium Bicarbonate 72mg, Caffeine 65mg in each capsule. Ibuprofen is a nonsteroidal anti-inflammatory drug that is useful in relieving pain. It works by impacting levels of certain prostaglandins and reducing inflammation. Riboflavin is an important B vitamin that is shown to be effective in relaxing muscles in the neck and those in the brain. Sodium Bicarbonate increases the pH and helps the other ingredients be absorbed. Caffeine has been shown to be effective in helping relieving various kinds of headache pain. Together these ingredients seem to be more effective than any alone.
How To Use: Take 1 to 3 capsules every 3 to 6 hours as needed for headache relief – do not exceed 8 capsules in 24 hours. These can sometimes be irritating to the stomach. Taking with food reduces this effect.
Storage: Keep in the original container. Keep out of the reach of children and pets. Capsules and tablets may be stored at room temperature. Some liquids should be stored in the refrigerator (see the prescription label.)  Store all medicines away from excess heat and moisture. Do NOT store in the bathroom.
Note: If you miss a dose take it as soon as you remember it. However, if it is almost time for the next dose, skip the missed dose and continue with the regular schedule. Do not take a double dose to make up for the missed one.
On April 7, 2005, the Food and Drug Administration (FDA) announced that they are asking manufacturers of all prescription nonsteroidal anti-inflammatory drugs (NSAIDs) to revise the drug labeling (package insert) to include a "boxed" or serious warning about the potential for increased risk of cardiovascular events (including heart attack and stroke) and serious and potentially life-threatening gastrointestinal (GI) bleeding associated with their use. This information will also state that patients who have just had heart surgery should not take these medications. The FDA is also asking manufacturers of nonprescription (OTC) NSAIDs to include information on the product label about the potential for cardiovascular events and GI bleeding, as well as skin reactions in patients taking these drugs. You should talk to your doctor if you are taking one of these drugs and have any questions or concerns about this new information. For more information visit the FDA website:http://www.fda.gov
For more information on this compound, contact us.