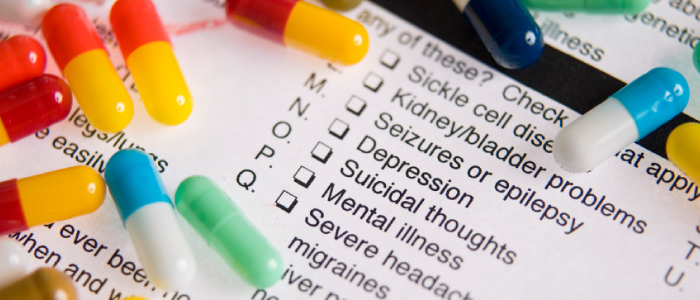 FROVA (frovatriptan)
What is it: Migraine Treatment
Use: Frovatriptan is used to treat severe migraine headaches. Many people find that their headaches go away completely after they take frovatriptan. Other people find that their headaches are much less painful, and that they are able to go back to their normal activities even though their headaches are not completely gone. Frovatriptan often relieves symptoms that occur together with a migraine headache, such as nausea, vomiting, sensitivity to light, and sensitivity to sound. Frovatriptan is not an ordinary pain reliever. It should not be used to relieve any kind of pain other than migraine headaches. Frovatriptan may cause serious side effects in some people, especially people who have heart or blood vessel disease. Be sure that you discuss with your doctor the risks of using this medicine as well as the good that it can do.
Side Effects: Stop taking this medicine and get emergency help immediately if any of the following effects occur: More common: Chest pain (severe); heaviness, tightness, or pressure in chest and/or neck; sensation of burning, warmth, heat, numbness, tightness, or tingling. Less common or rare: abdominal pain (severe); changes in facial skin color; cough or hoarseness; diarrhea; fast or irregular heartbeat; fever or chills; loss of appetite; lower back or side pain; nausea; painful or difficult urination; puffiness or swelling of the eyelids or around the eyes, face, or lips; shortness of breath, troubled breathing, tightness in chest, and/or wheezing; skin rash, hives, and/or itching; weakness.
Other side effects may occur that usually do not need medical attention. Some of the following effects, such as nausea, vomiting, drowsiness, dizziness, and general feeling of illness or tiredness, often occur during or after a migraine, even when frovatriptan has not been used. However, check with your doctor if any of the following side effects continue or are bothersome: More common: dizziness; nausea; sleepiness; unusual tiredness or muscle weakness. Less common ; agitation; anxiety; depression; discomfort in jaw, mouth, or throat; difficulty in swallowing; dry mouth; fainting; heartburn; itching of the skin; large nonelevated blue or purplish patches in the skin; muscle aches; pounding heartbeat; sudden large increase in frequency and quantity of urine; sweating; swelling of face, fingers, feet and/or lower legs.
Directions: The dose of this medicine will be different for different patients. Follow your doctor's orders or the directions on the label. The following information includes only the average doses of this medicine. If your dose is different, do not change it unless your doctor tells you to do so. The amount of medicine that you take depends on the strength of the medicine. In addition, the number of doses you take each day, the time allowed between doses, and the length of time you take the medicine depend on the medical problem for which you are using the medicine.
If You Miss a Dose: Since pain relievers are sometimes taken only when needed, you may not be on a dosing schedule. If you are taking the medication regularly, take the missed dose as soon as you remember. If it is almost time for your next dose, skip the missed dose and take the medicine at your next regularly scheduled time.
Storage: Store the medicine in a closed container at room temperature, away from heat, moisture, and direct light. Keep from freezing. Keep out of the reach of children. Do not keep outdated medicine or medicine no longer needed.