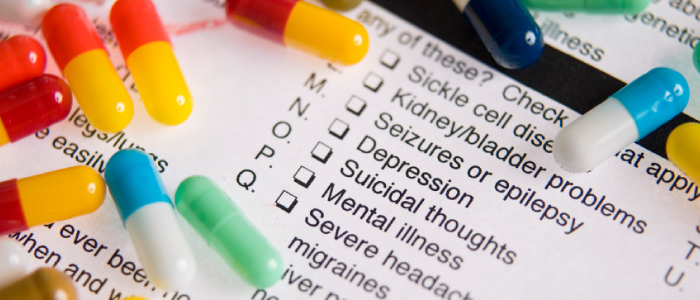 PROZAC (fluoxetine)
Under the brand name Sarafem, the active ingredient in Prozac is also prescribed for the treatment of premenstrual dysphoric disorder (PMDD), formerly known as premenstrual syndrome (PMS).
What is it: Fluoxetine is an antidepressant in a group of drugs called selective serotonin reuptake inhibitors (SSRIs). It affects chemicals in the brain that may become unbalanced and cause depression, panic, anxiety, or obsessive-compulsive symptoms.
Use: Prozac is prescribed for the treatment of depression—that is, a continuing depression that interferes with daily functioning. The symptoms of major depression often include changes in appetite, sleep habits, and mind/body coordination; decreased sex drive; increased fatigue; feelings of guilt or worthlessness; difficulty concentrating; slowed thinking; and suicidal thoughts.
Prozac is also prescribed to treat obsessive-compulsive disorder. Prozac is used to treat panic disorder, including panic associated with agoraphobia (a severe fear of being in crowds or public places).
Side Effects: Side effects may include: Abnormal dreams, abnormal ejaculation, abnormal vision, anxiety, diarrhea, diminished sex drive, dizziness, dry mouth, flu-like symptoms, flushing, gas, headache, impotence, insomnia, itching, loss of appetite, nausea, nervousness, rash, sex-drive changes, sinusitis, sleepiness, sore throat, sweating, tremors, upset stomach, vomiting, weakness, yawning
Precautions: Serious, sometimes fatal, reactions have been known to occur when Prozac is used in combination with other antidepressant drugs known as MAO inhibitors; and when Prozac is discontinued and an MAO inhibitor is started. Never take Prozac with one of these drugs or within at least 14 days of discontinuing therapy with one of them; and allow 5 weeks or more between stopping Prozac and starting an MAO inhibitor. Be especially cautious if you have been taking Prozac in high doses or for a long time.
Directions: Prozac should be taken exactly as prescribed by your doctor. Prozac usually is taken once or twice a day. To be effective, it should be taken regularly. Make a habit of taking it at the same time you do some other daily activity. It may be 4 weeks before you feel any relief from your depression, but the drug's effects should last about 9 months after a 3-month treatment regimen. For obsessive-compulsive disorder, the full effect may take 5 weeks to appear.
Missed Doses: Take the missed dose as soon as you remember. If it is almost time for your next dose, skip the missed dose and take the medicine at the next regularly scheduled time. Do not take extra medicine to make up the missed dose.
Storage: Store the medicine in a closed container at room temperature, away from heat, moisture, and direct light. Keep from freezing. Keep out of the reach of children. Do not keep outdated medicine or medicine no longer needed.